Meet New EMBA Staff Samantha Vasey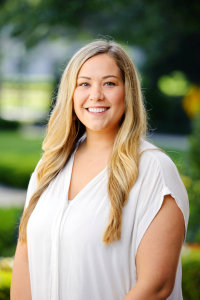 Hello! My name is Samantha Vasey, and I recently began working in the position of Manager of New Lead Development and Recruitment for the Executive MBA Program. I am originally from Phoenix, Arizona, where I earned my undergraduate degree in Business Management and subsequently, my MBA from the University of Arizona. While I miss authentic Mexican food and the beautiful desert, Alabama has been a wonderful place to call home! My husband and I decided to take a leap of faith and move to Alabama when he was offered a position with the UA Athletic Department. Since moving to Alabama, we have enjoyed getting plugged into the community, meeting new people, and exploring the South!
I am passionate about empowering others to pursue their career goals and aspirations, and I am looking forward to assisting prospective and current students through their MBA journey. The decision to pursue your MBA while working full-time is an ambitious and demanding commitment, but also an investment in your future. Yes, the studying is hard, the hours are long, and the classwork is rigorous, but the outcomes will be life-changing!
From my MBA experience, I have gained a solid network and community with my class cohort that has helped me throughout my professional career and personal life. The MBA program allowed me to form strong bonds with many of my classmates that I still maintain today. Several classmates were guests at my wedding, a classmate was a reference for my first job in Alabama, and my former accounting professor is co-teaching an online accounting class with my husband this summer.
The best advice I was given while pursuing my MBA was to learn how to become comfortable with the uncomfortable, and to take advantage of every situation. Think outside of the box, meet as many people as possible, and take time to learn and read about topics and subjects that may be foreign to you.
When I am not working, I enjoy spending time with my husband Kyle and our two rescue dogs, Zoey and Sadie! You may also find us going to a concert at Tuscaloosa Amphitheater, trying a new restaurant around town, or cheering on the Crimson Tide at Bryant Denny Stadium.
Additionally, I serve as the Director for Church and Community Relations for a local non-profit called Tuscaloosa Angels. We are one out of fifteen chapters of National Angels which is based out of Austin, Texas. The heart of our mission is to walk alongside foster children and their caretakers through intentional giving, relationship building, and mentorship. Starting a non-profit from the ground up has been an amazing journey and learning experience. It is truly an honor to serve the local community in hopes of making a difference in the lives of others.
I look forward to meeting all the wonderful students, alumni, faculty, and staff that make up the Executive MBA family, and I am eager to help build a successful future. Please feel free to contact me at svasey@cba.ua.edu or stop by our offices and say hello! I'm also happy at any time to grab a cup of coffee with you and hear about your background, experiences, and stories! Thanks again and ROLL TIDE!