Tuscaloosa EMBA 2021 Class Begins Orientation With A Little Disney Magic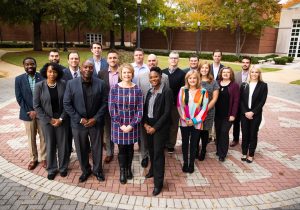 The University of Alabama football Coach Nick Saban likes to say, "A process guarantees success and a good process produces good results." November 13-15 future legends met at The University of Alabama to begin the EMBA Program. The EMBA Class of 2021 participated in a variety of orientation activities to get to know their classmates and define what a good process should look like to produce good results from their EMBA experience.
The Class of 2021 has twenty members with an average of 16 years of work experience.  Students represent a variety of industries including education, financial, nonprofit, health care, technology, government, defense, and retail services.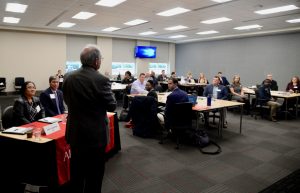 On the first day, former strangers now found themselves among friends as they learned more about the program and about the classes that would start them on their journey to graduation.
On Thursday the students were divided into their teams to test their business acumen in the Executive MBA Case Challenge. Each team was asked to develop a SWOT analysis on a company, then develop and propose a budget for one game-changing recommendation. Each team presented to a panel of judges, University of Alabama alumni: Managing Director Garey Morrison (BS Acctg 1977) of GPM Advisory, Corporate Controller Lilly Setiawan (EMBA 2017) of The Dutch Group, and CEO Mark Sullivan (EMBA 1986) of the Bank of Tuscaloosa.
Following lunch, the Class of 2021 learned more about the values that take a team from good to great. They also learned how influential a "paying it forward" culture, and handling hot button issues are in making exceptional leaders. Finally, the day culminated with a Disney themed scavenger hunt meant to familiarize the class with UA's campus and inject a healthy dose of competition into the spirits of everyone present.
The orientation ended with the Huntsville EMBA 2021 Class joining the incoming TEMBAs to take part in a workshop from the company labeled the "Happiest Place on Earth." Holly Hoffman, an instructor from the Disney Institute treated the Class of 2021 to a behind-the-scenes glimpse in Disney's Creating A Culture of Employee Engagement and Quality Service program. Students learned how Disney selects its cast and crew members and how they instill the Disney culture. Students also learned how excellent service is the result of understanding your customers' expectations and exceeding those expectations through their customer "Touch Points." In the end, the class realized that making their team feel more like a family was crucial to success, and starting the process was as easy as saying, "You've got a friend in me!"

Congratulations to our incoming TEMBA Class of 2021. Roll Tide!
Rebecca Bonner, Tyndall Federal Credit Union
Suzanne Boozer, Studio by the Tracks
Suzanne Braden, Encompass Health Corporation
Sydney Burns, Lou and Company
Robert Dobson, Mossy Oak Properties
Adam Finefrock, The University of Alabama
Austin Hudgins, Otis Elevator Company
DJ Jackson, The University of Alabama
Mitchell King, Altec Industries
Pamela Laffitte, Mobile County Sheriff's Office
Ronald Powell, City National Bank – An RBC Company
Matthew Preskitt, Morris-Shea Bridge Company
Angela Quick, Wells Fargo
Chad Smith, Stifel
Michael Spears, Deloitte Consulting/Missile Defense Agency
Micah Sutton, CCS Medical
Valerie Watts, Dal-Tile Corporation
Jesse Wheeler, Stillman College
Valencia Winston, Tuscaloosa City Schools/SkyPop Gourmet Popcorn
Bryne Zuege, CenturyLink
For more information on The University of Alabama Executive MBA Program, visit the UAEMBA website or contact Cheryl Altemara at 205.348.4501 or caltemara@cba.ua.edu.
Article was written by Ben Tarkoff, Graduate Assistant in the Executive MBA Program.