The Applied Statistics Master's
Gain hands-on experience with real projects and learn advanced business intelligence skills.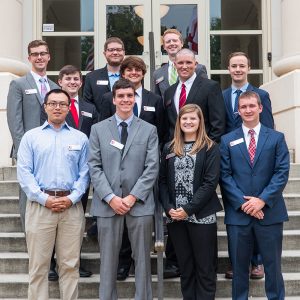 This program offers general courses in classical statistical methods, mathematical statistics, regression and experimental design, as well as specialized courses in topics including data mining, quality control, multivariate analysis, statistical computing, linear models and nonparametric statistics. The program is flexible, allowing students to structure courses in a manner that complements their career objectives.
Learn more about the requirements of the Master of Science in Applied Statistics Program in the course catalog.
Interested in learning more? Contact us:
Program Coordinator
Dr. Bruce Barrett
205-348-8903
352 Alston Hall
CONTACT
Program Info
The M.S. degree in Applied Statistics requires 30 hours, half of which are track specific. There are two different tracks within this degree: Statistics and Analytics. There are five required courses common to both tracks of study.
Electives may be earned in additional coursework with the approval of a faculty advisor. The program of related courses may vary from student to student and depends on the student's interests and academic background. When most of the coursework is completed, the student must pass a written comprehensive examination OR a professional exam such as the Actuarial P Exam, SAS Predictive Modeler Exam, or the ASQ Certified Quality Engineer Exam.
Facts about the Masters of Science in Applied Statistics
The applied statistics program began over 25 years ago.
The program averages 15 graduates per year.
The program offers graduates teaching and research assistantships with competitve stipends, including partial tuition.
Opened in 2015, The Marillyn A. Hewson Data Analytics Lab offers students cutting edge technology in a collaborative environment.
A business degree is not required to start earning your MS in Applied Statistics.
---
How To Apply
The University of Alabama Graduate School provides an online application here. A checklist will be provided to guide you through the process and assist you with the required materials. You can also click the link on the left.
What is required in order to apply?
A Bachelor's degree from an accredited university or college.
Transcripts from all colleges attended.
A Statement of Purpose outlining your reasons for desiring the degree.
An up-to-date Resume.
3 Letters of Recommendation.
Average GMAT/GRE score: 707/319
Average GPA: 3.53
---
Special Requirements
The candidate for admission to applied statistics is normally expected to have completed courses in mathematics equivalent to three semesters of undergraduate calculus and to have a working knowledge of computer programming and linear or matrix algebra. The Graduate Record Examination (GRE) or the Graduate Management Aptitude Test (GMAT) is required of all applicants.