The Marketing Master's
A well-respected program designed to prepare students for prolonged success in a professional setting.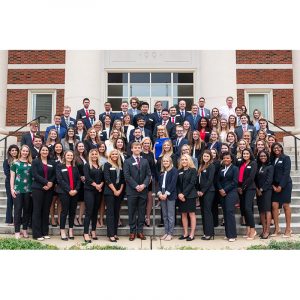 The Master of Science in Marketing is an intensive program designed to give students advanced analytical marketing skills and hands-on experience with which to launch a career in one of marketing's many fast-growing fields: Marketing analytics and decision making; Marketing research and insight development; Management consulting and project management; Professional selling and sales management; Services marketing; and Digital and social media.
Learn about the requirements of the Masters of Marketing Program in the course catalog.
---
Program Info
An undergraduate degree in Marketing is not a prerequisite for the Master of Science in Marketing. Current undergraduates should apply for admission during the fall prior to or spring of the year admission is sought. Students may choose to take either the GMAT or the GRE. The minimum GPA for admission is 3.0 and the minimum GMAT score is 550, or 300 on the GRE. 3 Letters of Recommendation are required as part of the application process. The application deadline is July 1 for domestic students and April 1 for international students. International students must score a 100 TOEFL or equivalent IELTS.
Who should consider the program?
Business undergraduates who wish to earn a graduate degree via an additional year of advanced marketing coursework and hands-on project experience before moving into the workforce.
Undergraduates without a business background who wish to blend their education background and skills with an intensive year of instruction in marketing to earn a graduate degree and enhance their employment opportunities.
Individuals who are currently working in the private or public sector who wish to enhance their opportunities for upward mobility by earning an advanced degree, and building a deeper skill set in enhanced analytical and research techniques.
Individuals who wish to earn a masters degree en route to a possible doctorate in marketing.
Specializations
Marketing Analytics
Students interested in the Marketing Analytics Specialization must score 580 or higher on the GMAT (308 GRE) and have made at least a B in college calculus. Students choosing the Marketing Analytics concentration should apply for summer acceptance to take ST 560 (available online).
Digital and Social Media Marketing
The Digital and Social Media Marketing Specialization involves a deep dive into the new world of digital marketing, with an overview course in social media–based marketing strategy followed by courses in digital marketing analytics and advanced digital marketing. The world of digital and social media marketing is growing rapidly, with firms around the world scrambling to add digital components to their marketing strategies.
The Masters in Marketing offers two focus areas of study, Marketing Management, and Professional Sales. Learn more about these areas of study in the course catalog.
---
How To Apply
The University of Alabama Graduate School provides an online application here. A checklist will be provided to guide you through the process and assist you with the required materials. You can also click the link on the left.
What is required in order to apply?
A Bachelor's degree from an accredited university or college.
Transcripts from all colleges attended.
A Statement of Purpose outlining your reasons for desiring the degree.
An up-to-date Resume.
2 Letters of Recommendation.
Average GMAT score: 534
Average GPA: 3.5
---
Interested in learning more? Contact us:
Program Coordinator
Dr. Arthur Allaway
205-348-8917
169 Alston Hall
CONTACT