The Economics Master's
A three-track program preparing students for careers as economists in education, business, and government agencies.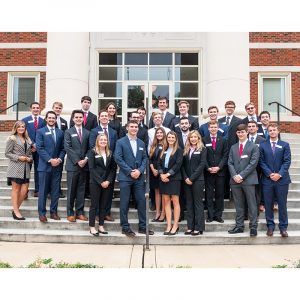 This degree is designed to equip students with the conceptual knowledge and practical skills needed to do state-of-the-art economic and statistical analysis in business, industry, and government. There are three tracks available for the MA degree in economics: preparation for a doctorate in Economics, economic analysis, and public policy.
Learn more about the requirements of the Master of Arts in Economics Program in the course catalog.
Interested in learning more? Contact us:
Program Coordinator
Dr. Matt Van Essen
205-348-2912
251 Alston Hall
CONTACT
Program Info
The MA program in economics is designed to prepare students for careers as professional economists in business, government agencies, colleges, and universities. The program focuses on the following areas: Providing fundamental concepts of economic analysis; Developing strong quantitative skills in econometrics, economic forecasting, and statistical analysis; In-depth application of the SAS statistical software package, which is the leading statistical analysis tool used by business and government today; Certification in data mining from the SAS Institute.
Program Tracks
The Master of Arts in Economics program offers a degree in three tracks: Ph.D. Preparation, Applied Economics, and Public Policy Economics.
---
How To Apply
The University of Alabama Graduate School provides an online application here. A checklist will be provided to guide you through the process and assist you with the required materials. You can also click the link on the left.
What is required in order to apply?
A Bachelor's degree from an accredited university or college.
Transcripts from all colleges attended.
A Statement of Purpose outlining your reasons for desiring the degree.
An up-to-date Resume.
3 Letters of Recommendation.
Average GMAT score: 670
Average GPA: 3.84