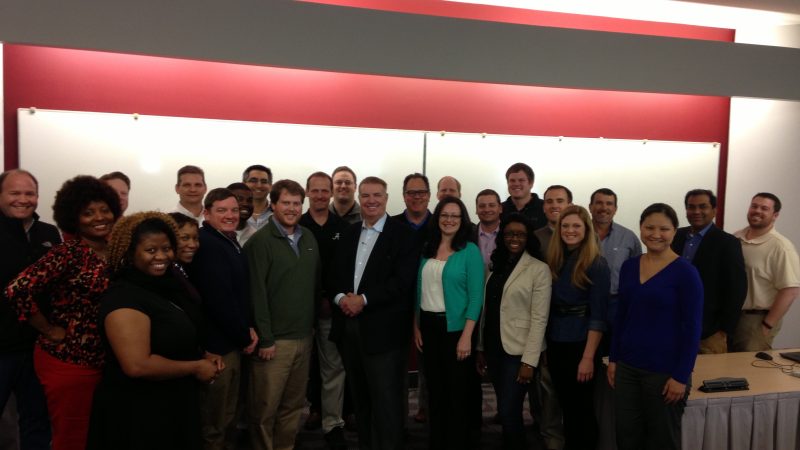 CEO John Ferriola of Nucor Corporation Speaks to UA EMBA Class
On Saturday, March 15, John Ferriola, Chairman, President and Chief Executive Officer of Nucor Corporation, flew in from the company's corporate headquarters in Charlotte to meet with the Tuscaloosa Executive MBA Class of 2014. The EMBA class has been studying Nucor both through case analyses and through examination of data presented in the IBISWorld Industry Report 33111: Iron & Steel Manufacturing in the US.  Nucor and affiliates are manufacturers of steel products, with operating facilities primarily in the U.S. and Canada. It is the most diversified steel products producer and North America's largest recycler.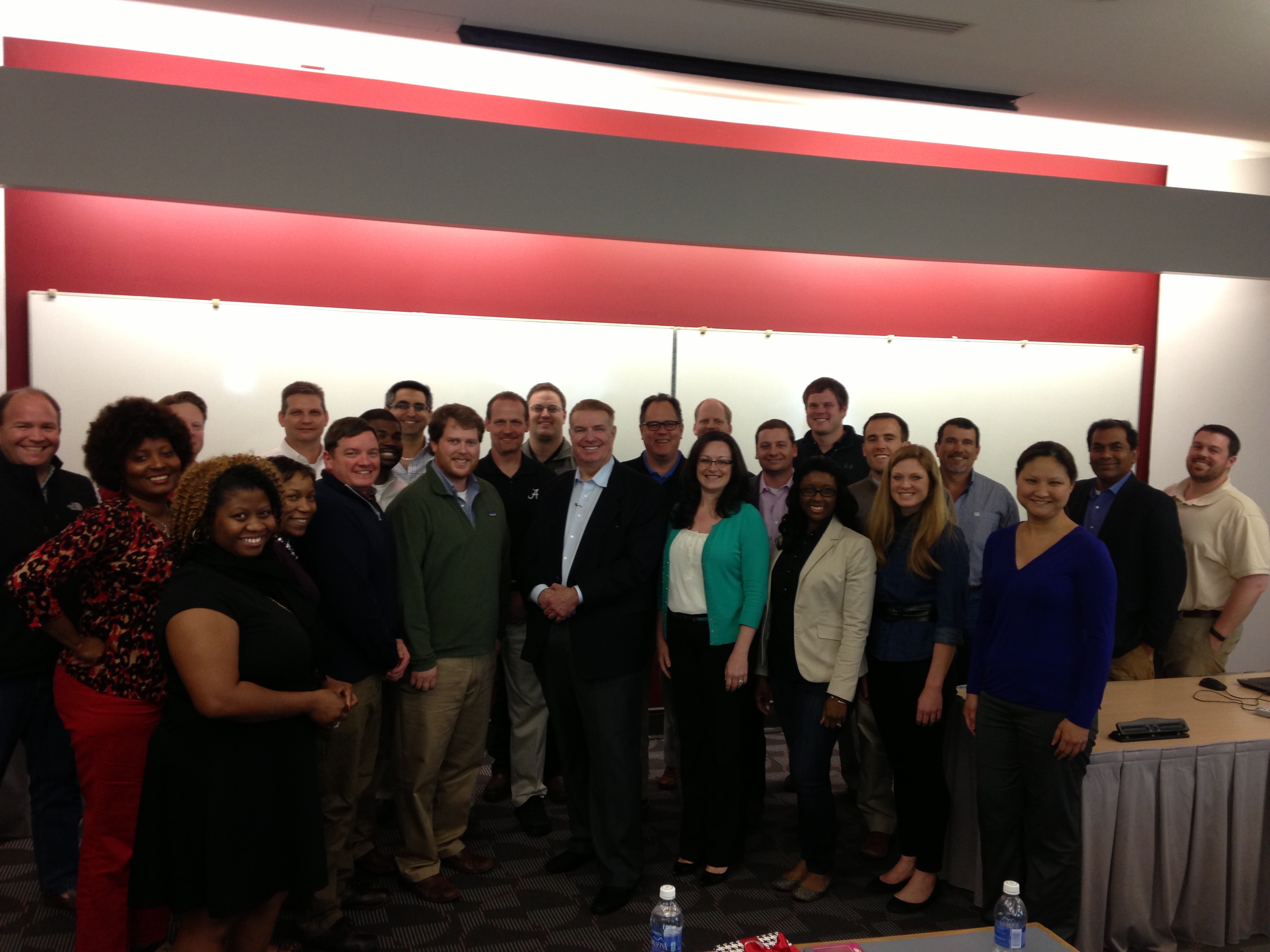 "It was an honor having Mr. Ferriola answer questions and discuss the company in depth with our class," said Christopher Jones, TEMBA Class 2014 President. "It gave us great insight into the critical decision making process, issues and strategies from the CEO point of view."
"I was especially pleased," added Dr. A.J. "Lonnie" Strickland, the John R. Miller Professor of Strategy, "that Mr. Ferriola went beyond the domain of talking about Nucor and its strategic initiatives. He also offered excellent career advice and shared amazing insights about how to succeed as a professional and as a person."
Mr. Ferriola joined Nucor Corporation in 1991 as Manager of Maintenance and Engineering, progressing up the corporate ranks to become CEO and President January 1, 2013. He also currently serves as the Chairman of the Board of Directors of the Steel Manufacturers Association (SMA) and is on the Board of Directors of the American Iron & Steel Institute (AISI). He has also been active for more than 20 years in the Association for Iron and Steel Technology (AIST) and has served on its board of directors as well as on the Board of Directors of the National Association of Manufacturers (NAM).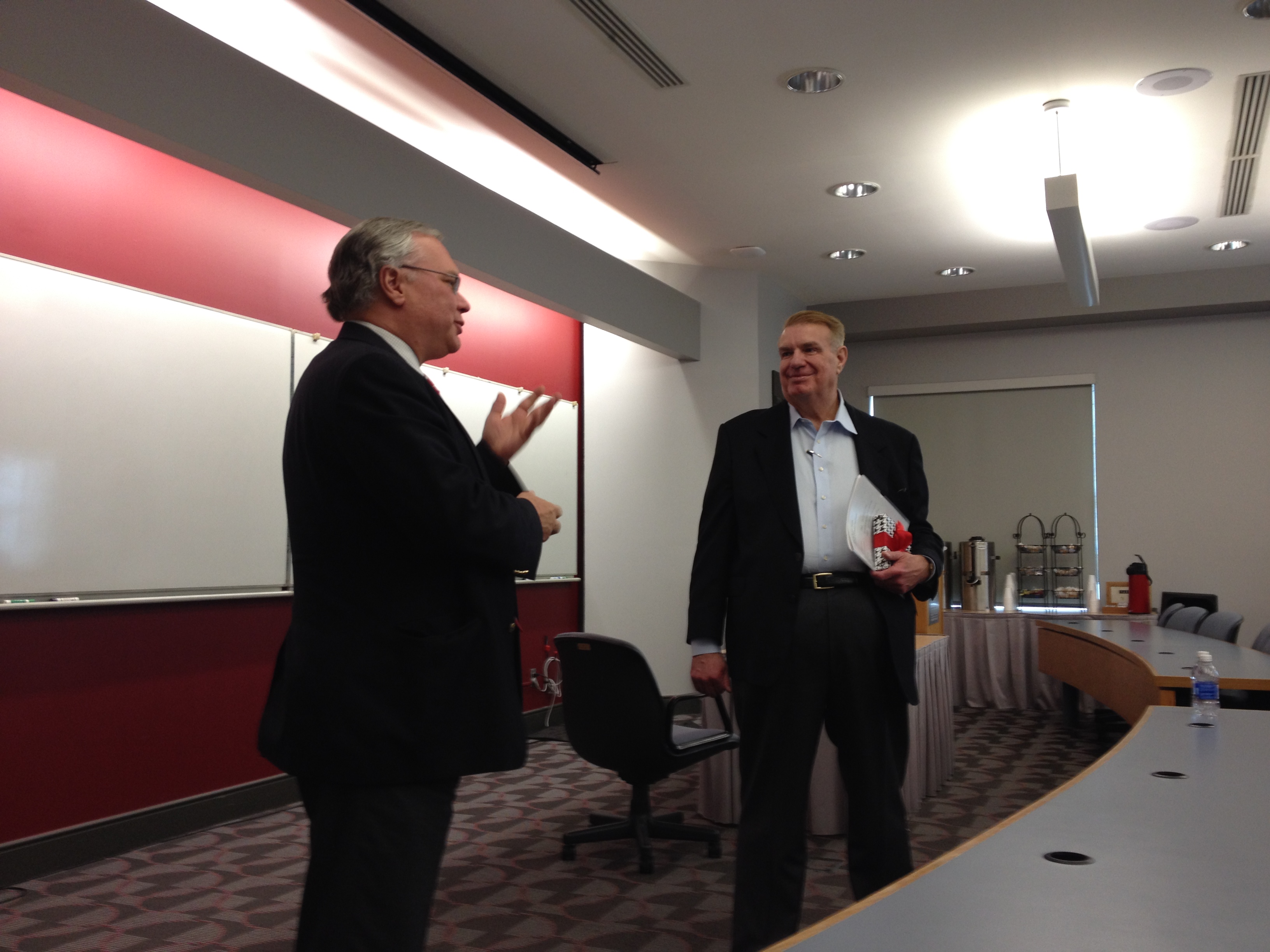 "It was a great honor to have John so willingly accept an invitation to a visit with our class," added Janet North, a Nucor employee and member of the TEMBA Class of 2014. "Early in my career with Nucor, as an intern out of Charlotte, I recognized what a special place Nucor is. And I quickly realized what a special role John plays in maintaining that valuable culture. His passion for Nucor, the steel industry, and for each and every employee is amazing."
Mike Hardin, Dean of the Culverhouse College of Commerce, attended John's presentation as well. "It was a thrill to witness John's perceptive insights regarding the role of the CEO, the importance of communication and the strategic alignment of teams," Dean Hardin observed. "Mr. Ferriola's words obviously reflect the beliefs that have made Nucor a prized, valuable and innovative leader in the steel industry. To have him interact with our students so personally made it a wonderful experience for everyone present."