EMBAAN Honors Kent Darzi as Alumnus of the Year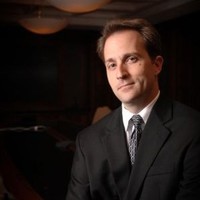 Kent Darzi, vice president of quality at ADTRAN and EMBA Class of 2010 graduate, was named this year's EMBA Alumnus of the Year at the EMBA Alumni Network (EMBAAN) Conference on October 4. In an interview after winning the award, Darzi talked about the various nuances of the EMBA Program that enabled him to be successful and why he continues to stay involved in EMBAAN and work with undergraduate and graduate students at UA.

From 2013-2015 Darzi served on the EMBAAN Board and was the first EMBAAN president, where he ensured that alumni could continue forging the legacy they had started in their pursuit of an M.B.A. in the form of various networking and alumni events. Darzi has been an active promoter of the EMBA and STEM programs, and the Culverhouse College of Business. He sponsors EMBA students, hosts opportunities to promote the EMBA program to ADTRAN employees, and recently worked with UA STEM students on a senior design project using artificial intelligence (AI) to advance ADTRAN solutions.

Darzi joined ADTRAN in 1995 and has been advancing within the company ever since, culminating in his current position as vice president, quality.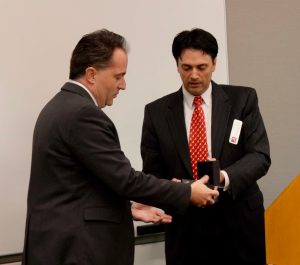 How has the EMBA Program had an impact on your career?
I thoroughly enjoyed my time as a design engineer at ADTRAN and have always looked for ways to bridge both our technical and business needs. At ADTRAN, we are leading high-speed telecom solutions that are both best in class as well as expand our business presence. Right after completing my M.B.A. at The University of Alabama, I was asked to be part of the team that worked on one of our company's largest acquisitions: integrating the R&D teams from Nokia Siemens Networks into the ADTRAN family.
Everything we learned in the EMBA Program was always practical. What I learned in class on the weekend, I was able to put it into practice on the following Monday. I know you hear this from a lot of different EMBA programs, but I could see it, especially in the UA program. To have colleagues compliment you on how you increase business by what you are learning in the UA EMBA Program is incredibly satisfying.  
What challenges did you face when deciding to enroll in an EMBA Program?
One of the hardest parts of the EMBA Program is committing yourself to enroll. Once you make that decision, you realize that balancing your school, home, and work schedules are possible. Once I decided to pursue my M.B.A., I never had second thoughts.
What drove you to become the EMBA Alumni Network President, and what does it mean to you?
The class before mine wanted to launch an alumni network, and when I was approached to help create and lead this effort, I thought this was an excellent way to keep connected with my UA professors, students, and peers. EMBA's are a select group of industry leaders and professionals. The EMBA Alumni Network was an opportunity to continue to interact with former students and leaders across various industries. I was humbled and honored to become the first president and help solve some of the unique challenges of developing our network.
What do you envision for the future of the EMBA Program?
The program continues to expand and adapt to the fast-paced changes that impact all our respective industries. For example, within the financial and technology sectors, we are looking at how data analytics and artificial intelligence will become significant influencers over the next few years. I was so pleased to see that Alabama held its 2019 Business Analytics Symposium with hundreds of students, EMBA alumni, and faculty talking with leaders from companies like Intel, Disney, and ESPN, about the challenges of these business-changing technologies.
Additionally, I am proud that the EMBA Alumni Network holds to our goal of wanting to keep our alumni current on the latest ideas in business and technologies. For example, Tom Edwards, a technology futurist, shared his vision of industry changes during our October 2019 EMBAAN Annual Conference. Many futurists cannot always provide a clear picture when it comes to an understanding of what's next. Tom was able to show in the next three years how much-augmented reality and AI will become a critical business catalyst. 
What would you say to those considering enrolling in an EMBA Program?
The UA EMBA experience was one of the best things I have done for my career and my pursuit of lifetime learning. I was able to meet and interact with top executives from across the country in our classroom and online settings. Plus, I was able to gain incredible knowledge, professional networks, and personal friends, and it all started because of the UA EMBA Program. 
For more information on The University of Alabama's Executive MBA Program, contact Cheryl Altemara, caltemara@cba.ua.edu, or call 205.348.4501.
Article written by Ben Tarkoff, Graduate Assistant in the Executive MBA Program