Spotlight: Hayley Ray Hallmark and Her Life After EMBA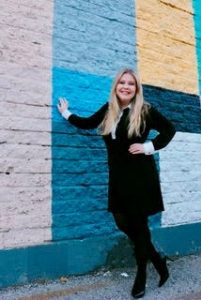 There is no time like the present! It can often be difficult to choose between continuing one's higher education and working as an industry professional. Fortunately, in this case, all or nothing is not in the EMBA's vocabulary. We hope to provide an experience that is both inclusive and flexible for all of our students.
This week we are spotlighting an alumnus who has traveled far and wide after her EMBA experience. Beginning with performances at the happiest place on Earth and culminating in her present position as a Workday software consultant with Collaborative Solutions, Hayley Ray Hallmark (TEMBA 2017) has certainly turned balancing responsibilities into a lifestyle. Let's wave our wands and explore how Hayley has met with so much success in her time after pursuing an MBA.
Can you give a brief overview of your work experience so far?
Sure – I will say it has been interesting! After I graduated, I became a parade/show performer and trainer for Walt Disney World. I am still a seasonal performer there now! Then I became a recruiter in different capacities for The University of Alabama (including EMBA!) for five years, while I was enrolled in the Tuscaloosa EMBA cohort. I am now a Workday software consultant with Collaborative Solutions, and I absolutely love it.
You worked in higher education and have recently transitioned to an IT company. What was that transition like?
Although the recruiter's life was fast-paced, being a lead on a software implementation project is entirely different. I had to pass a couple of Workday certifications which were definitely difficult before I could get started on a project. With the quantitative and methodical thinking that I had developed while in the program and a lot of hard work, I aced the exams. I create branded presentations, configure the Workday software, lead workstream meetings, and present a lot. Coming from an extremely unique background (an imaginative and engaging software consultant) I see things in a different light than most, but I have found that that's what makes me offer distinctive solutions to problems.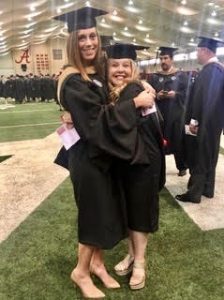 With an undergraduate degree not in business, what challenges did you face and how did you overcome them?
Oh man – it was tough! I had never taken accounting or finance, and the one statistics class that I took in college was one of those where I never wanted to see or discuss standard deviations again. It was also difficult to have a full-time job where I traveled often and be a full-time student every other weekend. Something I really appreciated was that my team members (Shout out to the Five Forces!) and really any of my classmates would take time to work with me when I was struggling. When a professor would be explaining something and I just could not get what they were saying, I remember Doug from our class would say to me, "Hayley, think of it like this…" and he would present it in an alternate way. All of our minds work differently and sometimes all it takes is to look at it from a different perspective. As a class, we all pitched in where we could with our strengths. Presenting is my jam – so I helped others with their presentation style.
My team had a weekly meeting where we would discuss who was doing what for our team projects. We also would talk about what was due for the upcoming week and what we needed to start working on now for the future. After class on Friday, several of us would get together to go over material for the next class. Teamwork makes the dream work!
How has the EMBA program at UA helped you in your job roles thus far?
EMBA has "rewired" my brain to think in an entirely different way. With Statistics and our OM (Excel) class, I'm able to use data to support my decision-making process. When I was an EMBA student, I was able to convince my boss to allow me to overhaul our grant-awarding system of $430,000 in order to fund 20 more students.  Now when I write emails or briefs, I think of Dr. Dulek's strategic communications class. How should I deliver this news? It also made me more aware of the way that I connect with others – and that at times I need to change my delivery. Dr. King's Leadership & Ethics class broke my perception of what motivates others and our discussions on identifying and analyzing our audiences have aided me so much when it comes to software consulting.
Do you have any tips or advice for prospective students looking at EMBA programs?
There is never going to be the perfect or ideal time to do an EMBA program. Work, family, health, and life, in general, can all be worthy excuses to not enroll, but those 17 or 21 months are going to blaze by. My family, friends, and coworkers were hesitant about me doing the program – especially because I had to have ACL surgery in the first semester. But if you ever wanted to advance to that next level, or change industries, or just go on a completely different path than the one you're on, I'd recommend an EMBA. It didn't apply to me at the time I was a student, but it has assisted me in finding a flexible job as a military spouse. You get out of it what you put into it – but for me, it was one of the best decisions I've made in my life.
Any other thoughts or comments?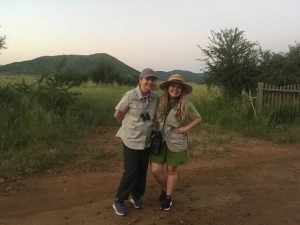 I'm so thankful for all of the fascinating people that I have met through the EMBA program- while I was a student, a recruiter, and now as an alumna. From racing down the streets on the back of motorbikes in Vietnam as a student on our international trip, or doing a safari as an EMBA alumna in South Africa, to cheering at Alabama football games, to celebrating my friends reaching the goals that they told me about when they joined the program, the EMBA has added so much color to my life. I miss everyone so much, but I know that they are only one phone call or alumni event away. You should do an EMBA program for the experience and knowledge that you get out of it. However, it's with my EMBA family that although we move often (every year with the army recently!), I feel like I always have a home.
For more information on The University of Alabama's Executive MBA Program, contact Cheryl Altemara, caltemara@cba.ua.edu, or call 205.348.4501.
Article written by Ben Tarkoff, Graduate Assistant in the Executive MBA Program