EMBA Spotlight: Chris Overstreet, TEMBA 2018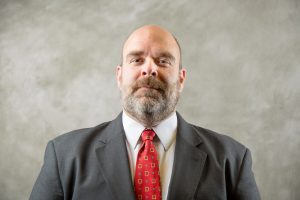 We want to start off this blog post by wishing everyone well and hoping that you and your families are staying safe during this trying time. The EMBA staff at UA knows that life has changed unexpectedly with events that have transpired over the last month and a half with the COVID-19 outbreak. Despite this adversity, there is a lot to be said about turning our eyes to the future in expectations of a better tomorrow.
To assist with helping you stay at home and not going completely stir crazy, we recently interviewed Tuscaloosa EMBA Class of 2018 alumnus Chris Overstreet,  Vice President and Director of Client Services for Doster Construction in Birmingham. A strong supporter of the EMBA program, Chris found solace in the rigorous environment at UA. Chris delves into the nuances of the program that enabled him to break out of his shell and emerge with unparalleled business acumen.
Can you provide a general overview of your career path thus far?
I have worked with Doster Construction Company, Inc., a general contractor headquartered in Birmingham, since 2003. We build healthcare, institutional work, higher education, commercial, industrial, and multi-family projects. I am currently the Vice President Director of Client Services for Dostor's Multifamily Group which concentrates on building apartments, student living, and senior living developments. More specifically, I head up preconstruction which means budgeting and pricing for owners and clients.
What was happening with your career prior to EMBA?
I started in the 2016 EMBA program (TEMBA 33 class). My title at that time was the Director of Preconstruction Services for Doster Construction. I managed six to eight individuals and was in charge of budgeting and pricing multifamily projects. A friend of mine enrolled in another graduate program in 2015 and shared with me some of his experiences and how it was an eye-opener for him.  An M.B.A. has always been something that had interested me. I knew that I didn't have the business background that I needed. While I was knowledgeable about construction, I was less comfortable when it came to business topics (revenues, profit/loss, etc.), and it started to feel past due. Up to that point, I had very much enjoyed staying within my comfort zone but my friend's energy was infectious.
Why was The University of Alabama EMBA program a fit for you?
Cheryl Altemara, Assistant Director of EMBA, made it seem that much more welcoming. She was patient and helped talk me through the process. I was also able to sit in on two Saturdays in the Bryant Conference Center. One of the classes I attended was Professor Lonnie Strickland's strategy course. It really intrigued me! I spoke with other schools and was even accepted at another university as well. The major difference for me was the in-class element. I did not want to enroll in a program and sit behind a screen and not develop a rapport with the other classmates and professors. It was a huge deal to have to be present in class. I am a natural introvert but the preparation for the classes and in-class presentations helped me gain confidence. Plus working on projects and studying with classmates who work in different industries added to my experience while I was in the program. I feel as though I was able to learn a little bit from everyone, regardless of their work discipline, and maybe use that knowledge in my own life.
Can you describe a UA EMBA project or assignment or a particular class that you considered pivotal to changing your professional readiness?
My classes had more of an impact on how I think. There are some examples that come to mind. Definitely statistics with Dr. Gray. His class helped me look at data more objectively. Also, the accounting class with Dr. Taylor gave me a lot more confidence regarding the basics of accounting and the fundamentals of financial statements. I can now look at a potential business partner and see how prepared they are to do business with me. Finally, there was Dr. Dulek's communication class. We learned how to effectively communicate with people which is just as important as the technical skills we learned in some of the other classes.
What's it like after graduation? As an alumnus of UA EMBA, what opportunities keep you connected to the program, college, classmates and alumni network?
I still try to stay in touch on social media and with Cheryl Altemara. I attend recruiting events because I believe in the program, degree, and what UA is doing. I have also been to our EMBA Alumni Network events: A-Day, annual tailgate, the socials, and the Family Day Barons game. I stay in touch with people from class with texts, phone calls, dinners, etc. Some of my classmates have moved on to other cities, but we still stay in touch. There is a great network of people from both a business and a personal perspective.
What advice would you give others who are considering whether or not pursuing a graduate degree is the right decision?
Don't be afraid to do it. To be honest it is not an easy program especially for those with both families and full-time jobs. You have to view it as an investment and the decision to enroll needs to consider both family and work obligations. However, I guarantee it will dramatically alter one's perspective on life. You will do things you didn't think were possible time-management wise. I still don't know how I did it with all the class deadlines, full-time job, work travel, family, etc. I would recommend it to anyone. Don't be afraid to try it and don't be afraid if you're someone who's older. I started the program at the age of 43 and one of the biggest adjustments for me was going back after being out of school for 19 years. Yet, I was able to get into it very quickly and there were people that helped me including my fantastic team members.
For more information on The University of Alabama Executive MBA Program, visit the UAEMBA website or contact Cheryl Altemara at 205.348.4501 or caltemara@cba.ua.edu.
Article written by Ben Tarkoff, Graduate Assistant in the Executive MBA Program