EMBA Spotlight: Julie Mathis, HEMBA 2020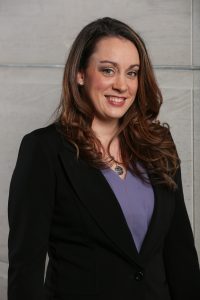 This month we are spotlighting EMBA Class of 2020 alumna Julie Mathis, Human Resource Business Partner at Pilot Company. Julie shares with us how The University of Alabama EMBA Program prepared her to move into an executive position.
Tell us a bit more about your company, Pilot, and your new role in the company today?
Pilot is a growth company focusing on innovative solutions across our retail, energy, and logistic operations. Our vast network of more than 900 retail and fueling locations provide travelers with convenient stops offering an incredible variety of amenities and products to make road travel easier.
The Pilot Flying J travel center network includes locations in 44 states and six Canadian provinces with more than 630 restaurants and 35 Truck Care service centers. Our One9 Fuel Network connects smaller fleets and professional drivers to the services they need at a variety of fueling locations. We supply more than 11 billion gallons of fuel per year with the third largest tanker fleet in North America. Our sourcing infrastructure, strong market presence, and expertise in energy and logistics optimize the distribution of fuel, DEF, bio, and renewables.
Our fleet also provides critical hauling and disposal services of our nation's busiest basins. As an HR Business Partner for the Sales Division, I work with the leadership team to drive company initiatives and business strategies. Essentially my role is to make sure we have the right people in the right places.
You began your EMBA Program in the fall of 2018, what was that journey like for you?
At first, terrifying. But I quickly learned that there was nothing in my classes that was "over my head." The challenge was not in understanding new theories and concepts, rather the volume of work and time management. This is a skill you MUST have in corporate America. There were times where things would get dumped on us last minute and when you think about it—that's the real world.
How has the EMBA Program at UA helped you in your job roles thus far?
My MBA has made me a more well-rounded professional. I chose the MBA program over an HR Masters program because I wanted to understand the whole business. In doing so, I am not just HR, I am a thought partner to Senior Leaders of the organization and help drive company strategy.
Describe a UA EMBA project, assignment, or a particular class takeaway that you considered
invaluable to you and your company.
Simply stated, this is what I learned from Dr. Ron Dulek that I will remember for the rest of my life: Humility will take you a hell of a lot farther than book smarts. Humility is a life journey. Projects will come and go. It's about how you change the lives of others that really matter most. That, in itself, is a legacy.
Also, Dr. Larry Baldwin's negotiation class offered me the most practical knowledge that I use every day. We would work through everyday scenarios and learn how to negotiate the desired outcome. This type of knowledge is something that every professional can put to use right away.
What one piece of advice would you give any aspiring female business professional?
The investment in yourself now is truly an investment in your future self. You're worth it. The advice is the same as I give my kids: stop whining and be the change you want to see in the world.
What advice do you have for others wanting to start an Executive MBA degree program?
I think this is best given as an analogy. It's like when you were a kid and you would go to the very back of the diving board and then take a running leap into the pool. You're a little scared, a little excited, and when you get completely submerged into the water you realize, it wasn't so bad and totally worth it.
For more information on The University of Alabama Executive MBA Program, visit the UAEMBA website or contact Samantha Vasey at 205.348.0954 or svasey@culverhouse.ua.edu.