Huntingdon College Dedicates the Black Student Union Center in Honor of Wanda A. Howard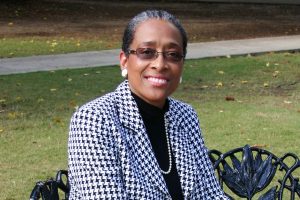 For 40 years, the Black Student Union has been a part of campus life at Huntingdon College. This October, the College community will dedicate a new BSU meeting and event space in honor of trustee Wanda A. Howard '81, who helped to found the BSU and who has mentored countless Huntingdon students and student-athletes and served as a guiding light on the board of trustees for 11 years.
When did you find out about the Naming?
I was informed during a Friday night meeting with President Cameron West in early September.  He stated that a space had been identified to house the new BSU Center.  I was extremely pleased to hear it.  Thereafter, he asked if it could be named after me, which caught me absolutely off guard.  I ultimately agreed after picking myself up off the floor.
What does it mean to me to receive this honor?
It gives me a greater urgency to continue my commitment, responsibility, and accountability to collaboratively effectuate transformational change for racial equality, justice, and inclusion at Huntingdon, The University of Alabama, and our country in general.
As CEO/Principal Consultant for B.O.L.D. Endeavors, LLC, (BOLDnDev), Howard is currently expanding business activities beyond operational consulting and real estate restoration. She is establishing an enterprise that emboldens (inspires, prepares, and equips) this Generation with Truth, godly wisdom, knowledge, life skills, and diverse opportunities to be courageous and daring leaders spiritually, naturally, and financially as they live the abundant life in Christ Jesus.
BOLDnDev comes after a successful career in diverse healthcare arenas from pharmaceutical sales in Brooklyn, NY to business office management in acute care and physician office settings in Alabama and twenty years of high-performance healthcare project management experience, which included directing the software implementation team at a Fortune 15 company; leading complex, enterprise IT projects in the fifth-largest US healthcare system and orchestrating the UAT for the largest US home health and hospice company's interstate, data center migration of 100+ applications.
What advice would you give to fellow EMBA alumni in serving on a board and paying it forward?
I encourage them to be servant leaders of unwavering integrity who can lead from the front by valuing all people, having a selfless purpose and a deep desire to tangibly improve the lives/conditions of the people they are serving and to equip them to also live a high impact life that pays it forward for generations to come.
For more information on how The University of Alabama EMBAs are making an impact in their companies and communities, visit the UAEMBA website or contact Samantha Vasey at 205.348.0954 or svasey@culverhouse.ua.edu.