UA EMBA Welcomes 2020 Incoming Classes
The University of Alabama's Executive MBA Program is proud to welcome this year's incoming classes.  The Huntsville EMBA class started in August and will graduate in December 2021.  The Tuscaloosa EMBA class completed orientation on November 20 and will graduate in May 2022. Forty-five students enrolled for the fall 2020 and spring 2021 semesters.
Our new EMBA students represent diverse industry and functional backgrounds. Industries include manufacturing, government, non-profit, defense, technology, engineering, media, consulting, energy, legal, education, aeronautics, healthcare, agriculture, services, and financial.  The average age is 36, with an average of 12 years of work experience.  Students living in Alabama are joined by classmates from across the U.S. Thirty-six percent have military backgrounds.
Changes to EMBA included taking the Tuscaloosa EMBA (TEMBA) hybrid with students meeting face-to-face one weekend per month for the four semesters. The Huntsville EMBA (HEMBA), a hybrid program, has moved from a five to four-semester program. Both classes will come together in November 2021 to attend the international trip as part of their global business course.
Congratulations to all of our new EMBA students. Roll Tide!
Huntsville EMBA (HEMBA)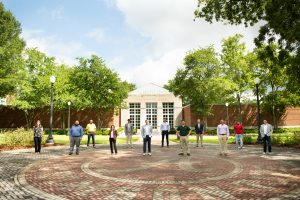 Eric Chism, Aviagen
Desmond Clay, Torch Technologies
Aaron Joyner, Department of Justice
Kevin Neal, QuantiTech Inc.
Emily Newton, The Boeing Company
Will Patton, Adhere
Clark Roper,  Piggly Wiggly Alabama Dist. Co.
Ty Sackett, EOS Defense Systems USA, Inc.
Shannon Sullivan, Lockheed Martin
Cody Vanderford, Mazda Toyota Manufacturing U.S.
Mike Weigart, CAE
JD Williams, S3 inc
Tyler Wilson, PeopleTec, Inc.
Tuscaloosa EMBA (TEMBA)
Brian Albritton, Leidos
David Bath, PeopleTec
Ben Bourgeois, RJ Mechanical
Maleah Cousineau, U.S. Army
Michael Emfinger, Accenture
Michael Gallant, Halliburton
Kelli Gant, Warrior Met Coal, Inc.
Peyton Hartzell, Clear Inc.
Matthew Hayne, The Valletta Group, Inc.
Dr. Jack Heath, Huntsville Hospital System
Patrick Hogan, DIPRA
Rodney Holmes, Birmingham Fastener
Joshua Horton, Meredith Corporation
Shannon Kynerd, Hunt Refining Company
Katie Masoor, Deloitte Consulting
Jayson McConnell, Tronox
Mona Lisa Morris, Birmingham Business Resource Center
Sudheer Nagam, GEODIS
Rob Norris, Southern Nuclear
Brooks Padgett, Truist
Edward Patton, Phifer Inc.
Ryan Pew, Spatial Networks
Lily Posey, Altec
Natasha Shumpert, Jefferson County Department of Health
William Simms, BLOX, LLC
Casey Smith, Simulation Technologies (Simtech)
Chris Spann, Collins Aerospace
Caleb Story, CareView Communications
Cade Warner, The Westervelt Company
Colin White, Carl W Consulting
Flynn Woods, Inteva Products
Dominic Yeager, The University of Alabama
To apply for the next UA EMBA program, contact Cheryl Altamara at caltemara@culverhouse.ua.edu or 205-348-4501 to request more information and attend a virtual information session