Welcome to our New HEMBA Class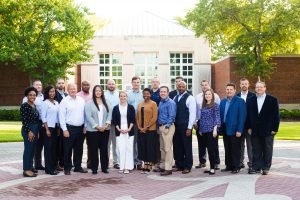 The newest students in The University of Alabama's EMBA in Huntsville Program are up and Rolling! After completing their orientation on August 7-8, they began classes immediately, tackling accounting, marketing, statistics and project management.
The new class represents a diverse group of industries. The average work experience for the class is 14 years, representing industries in aeronautics, defense, military, technology, telecommunications, manufacturing, energy, distributions, services, engineering, government, education, and non-profit.
The HEMBA program is taught in a hybrid format with students combining face-to-face one weekend per month classes with online learning. Click here for more information.
We look forward to getting to know our new EMBAs over the next 21 months. Roll Tide Roll!
HEMBA 2021 students:
Gene Cox, Target Corporation
Dean Cozzolino, The Boeing Company
Tom Evatt, The Boeing Company
Doug Fitzgerald, Legrand
Jessica Grubbs, U.S. Army SMDC
Tara Guilfoil, Aerojet Rocketdyne
Lakota Holder, The Bailey Company
James Lee, SAIC
Jim Lopresti, Yulista Aviation
Lorenzo Mack, U.S. Space and Missile Defense Command
Miracle Osborne, ITW Sexton
Sam Overdear, Aerojet Rocketdyne
Jason Richburg, PPG Aerospace
Ryan Roberts, The University of Alabama Intercollegiate Athletics
Aundrey Ruffin, Army Material Command
Gareth Scott, Boneal Aerospace
Shardra Scott, Alabama Power Company
Michael Sommer, U.S. Army
Christina Zegler, Girls on the Run of North Alabama
Don Zegler, KBR Government Solutions