The Executive MBA Program offered by The University of Alabama's Manderson Graduate School of Business announces new features to its format to better accommodate the schedules of busy working professionals.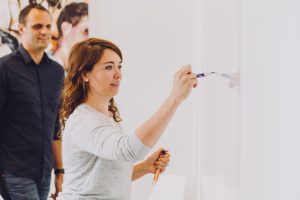 "When considering adjustments to how we deliver the EMBA Program, we had a strong desire to preserve the valuable in-person classroom experience our programs offer. We recognized a need to make the required in-class session schedule more manageable for our students who have busy careers, plus active family and social commitments," said Donna Blackburn, Director of Manderson Executive MBA programs.
What is new about the EMBA program is significant. Now professionals who choose the Tuscaloosa location will attend class sessions on Friday from 12:00 to 8:00 PM, and Saturday from 8:00 AM to 5:00 PM one weekend each month during the 17-month program. EMBA students were previously required to be on campus two weekends per month.
Each course provides online instruction and content to support monthly in-person class meetings. This blended-instruction model aims to allow students more control over their busy lives while growing their business acumen through a meaningful and academically rigorous degree experience.
The Huntsville EMBA location adopted the one weekend per month, blended-instruction format in 2015. As a result, enrollment for that program has steadily grown, and students appreciate the flexibility the blended format offers.
About the blended format EMBA format in Huntsville, Lakota Holder, current EMBA student, and Regional Service Sales Director for The Bailey Company, said, "I can't image earning my MBA any other way.  The class sessions in Huntsville provide the face-to-face engagement with my classmates and faculty I wanted, and because it's just one weekend each month, my performance and travel schedule for work doesn't suffer."
Additionally, students in the EMBA Huntsville location can now earn their MBA in four semesters rather than five.  The program previously spanned 21 months but will now cover 17 months, or four semesters, like the Tuscaloosa location. In both programs, students work through 16, three-hour courses to earn an MBA.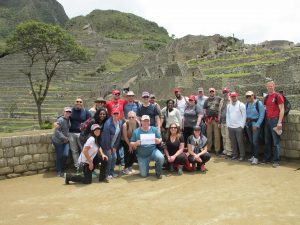 Furthermore, the immersive international study trip is now optional to allow students to save on their EMBA experience. Previous study trips have taken EMBA students to South Africa, Peru, Ecuador, and other locations to meet with and learn from local entrepreneurs and executives and to gain an understanding of business as it applies to international settings.
UA EMBA enrolls twice each year.  Huntsville location students start the program in August and graduate in December 2021. Tuscaloosa location students begin in December and graduate in May 2022.  Application deadlines are July 6 for Huntsville and October 19 for Tuscaloosa.
Successful applicants generally have a minimum of five years of professional work experience and must hold a bachelor's degree from a regionally accredited college or university.  We typically do not require a GMAT, GRE, or Executive Assessment entrance exam score for applicants meeting or exceeding our work experience minimum.  EMBA prefers a 3.0 undergraduate grade point average but does offer conditional admission for some candidates with a strong professional profile.
To become a part of our upcoming programs, contact Samantha Vasey at svasey@culverhouse.ua.edu or 205-348-0954 to request more information and attend a virtual information session.