Celebrating the EMBA Class of 2020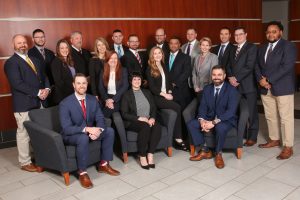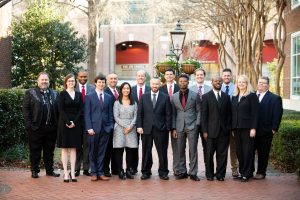 Although The University of Alabama Executive MBA Class of 2020 Graduation Ceremony, scheduled for May 2, is postponed until August contingent on how the summer health outlook progresses, we celebrate their achievement today as they finish their final semester.
We will also celebrate again in August so that they receive the recognition they so richly deserve. We look forward to honoring our EMBA graduates along with their families, faculty, and staff at the EMBA Ceremony. The ceremony will honor the achievement of our graduates who have earned their degree from one of the most prestigious universities in the world, during one of the most challenging times in recent history.
Congratulations UA EMBA Class of 2020
Alanna Aaron, Infomedia
Brandon Barnhill, Pilot Catastrophe Services Inc.
Chad Brennan, Dynetics, Inc.
Jeremy Chism, Aerojet Rocketdyne
David Coleman, Hunt Refining Company
Mike DeWerff, Motion Industries
Cynthia Dempsey, Decatur Morgan Hospital
Danielle Devaney, The Boeing Company
Shane Gandy, Pratt & Whitney
Lonnie Golightly, BF Goodrich/Michelin
Gilbert Goscicki, BASF
Pamela Harris, The University of Alabama, AL-PTAC
Joey Holdmeyer, Sonoco Products Company
Jake Horner, Unison Environmental Services
Bob James, Social Security Administration
Gabe Lewis, Mobius
Julie Mathis, Futaba Corporation of America
Brian McCormick, Parker Hannafin
Phil Monkress, All Points Logistics, LLC
Jared Murray, The Reprieve
Candace Padgett, Southwire Company
Justin Padgett, DRD, LLC
David Ramirez, Seimens
Jennifer Ridgeway, PPG Aerospace
Stephen Schlanger, Walt Disney World
Robert Smith, Trustmark
Adam Stephens, OYO
Amanda Suddath, FirstGroup America
Patrick Talley, o2ideas
Wilson Townsend, Schneider Electric
Tim Ware, Anheuser-Busch
Mandy Watts, B.Braun Interventional Systems
Stephan Williams, GAF – Tuscaloosa
Ted Yonke, ThyssenKrupp Materials