UA EMBA Alumnus Michael Mettee Named FirstBank CFO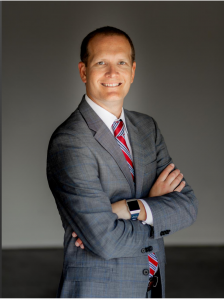 University of Alabama Executive MBA alumnus Michael Mettee has been named CFO of FirstBank, the Nashville-based lender, and its parent company FB Financial Corporation.
Mettee took over as interim CFO of FirstBank in April 2020 as it was working to finalize its $611 million acquisition of Franklin-based FranklinSynergy Bank (NYSE: FSB). The deal, which closed in August, grew FirstBank to 87 branches across four states and mortgage companies across the southeast and gives it approximately $11 billion in assets.
Mettee graduated from the UA EMBA Program in 2011. "The Executive MBA program at Alabama was instrumental in forming the way I think as a business person," said Mettee. "The unique structure and curriculum allowed me to learn from classmates, top instructors, and business executives who really set me up to take the next step in my career. Roll Tide!"
Before joining FirstBank in 2012, Mettee managed budget and forecasting for the retail banking operation of BBVA Compass. He also spent a decade in secondary marketing at BBVA, Regions/AmSouth, and Wachovia/SouthTrust.
"I am truly honored to be named CFO of a bank with the reputation and track record for success that FirstBank has built," Mettee said in the company's press release. "I am fortunate to work alongside a talented and dedicated team of associates across our footprint that provides unmatched customer service and works together to execute our strategic plan."
To request more information on the Executive MBA Program and attend a virtual information session, contact Cheryl Altamara at caltemara@culverhouse.ua.edu or 205-348-4501.