The Manderson MBA Advantage
---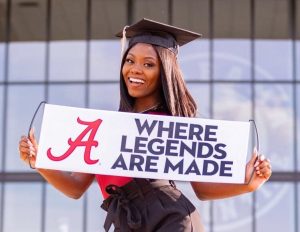 Since 1944, our full-time, campus based MBA program at the University of Alabama has been producing champions of the business world. The Manderson MBA program is strategically crafted to bridge the gap between pre-professional students and leaders in the workforce through experiential learning, professional development, networking, and service opportunities. Our program has been recognized as one of the country's best by publications like U.S. News & World Report, which ranked the Manderson MBA among the top-50 for several years in a row.
Our faculty and staff are committed to helping students prepare to become business leaders who are ready to solve the business challenges they face in the global marketplace. Students in our program have the opportunity to bring their educational experiences to new heights through national case competitions, amazing career development workshops, and engaging with faculty that teach based on real world application.
---
Admissions Updates: 
Traditional Fall MBA Applicants

Fall 2021:   We are no longer accepting applications for the fall 2021 start term.  We will begin reviewing Fall 2022 applications in mid-August.
Application Status Updates:    Our fall 2021 class is now full.  If you do not have a decision status on your application, this means that your application has been waitlisted.  We will keep your application under review through June.    Deny decisions will be made in late June. If you have questions on your status, please email Betsey Voorhees at evoorhees@cba.ua.edu
GRE/GMAT: For all future application terms, the GMAT/GRE is now required again.

STEM/Create Path MBA  Program Applicants

The GMAT or GRE is required for all future submitted applications.  If you plan to apply as part of the upcoming Nov. 15th deadline, please plan to take one of those exams by this deadline.  We recommend that students take the GMAT or GRE this summer to ensure proper time to study and time to retake the exam if needed.
The minimum score requirements for the Path program are as follows:  3.0 GPA, 305 on the GRE or a 600 on the GMAT.
---
Focused Areas of Study:
---
Ready To Take The Next Step?
---
Reach Out To Us!  We would love to help you on your MBA journey!