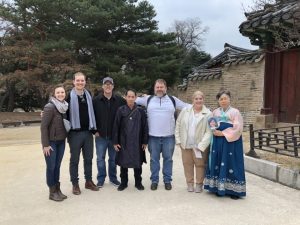 The University of Alabama Class of 2020 EMBAs have arrived in Seoul to begin their international trip. The eight-day trip will take them from Seoul, South Korea to Phnom Penh, Cambodia.  The international experience is part of the global business course taught in the final term of the program. Students are immersed in business and cross-cultural experiences.
Considered transformative by our students, the trip includes visits, tours, presentations by senior executives of local and global companies, exposing them to how business is conducted in those countries and the region.  Also, our students will be consulting with Friends International, applying their expertise and business knowledge to work on critical issues in growing their opportunities in international markets.
Ranking 12th among the world's largest economic powers and 4th in Asia, South Korea is famous for its spectacular rise from one of the poorest countries in the world to a developed, high-income country in just one generation. During the global financial crisis, the country maintained a stable economy and even experienced economic growth during the peak of the crisis.
Cambodia is among a few economies in the East Asia and Pacific region that continues to perform well. The economy is projected to remain robust, although the average annual gross domestic product (GDP) growth decelerated to 7.0 percent in 2019 it continues to be driven primarily by the expansion of exports, investment, and internal demand.
Following the trip, students may elect to do an optional post-trip to Siem Reap, Cambodia to visit Angkor Wat.  Students return after the trip to complete their spring term classes before graduation in May.
For more information on The University of Alabama Executive MBA international trip and how to apply for the program, visit the UAEMBA website or contact Cheryl Altemara at 205.348.4501 or caltemara@culverhouse.ua.edu.