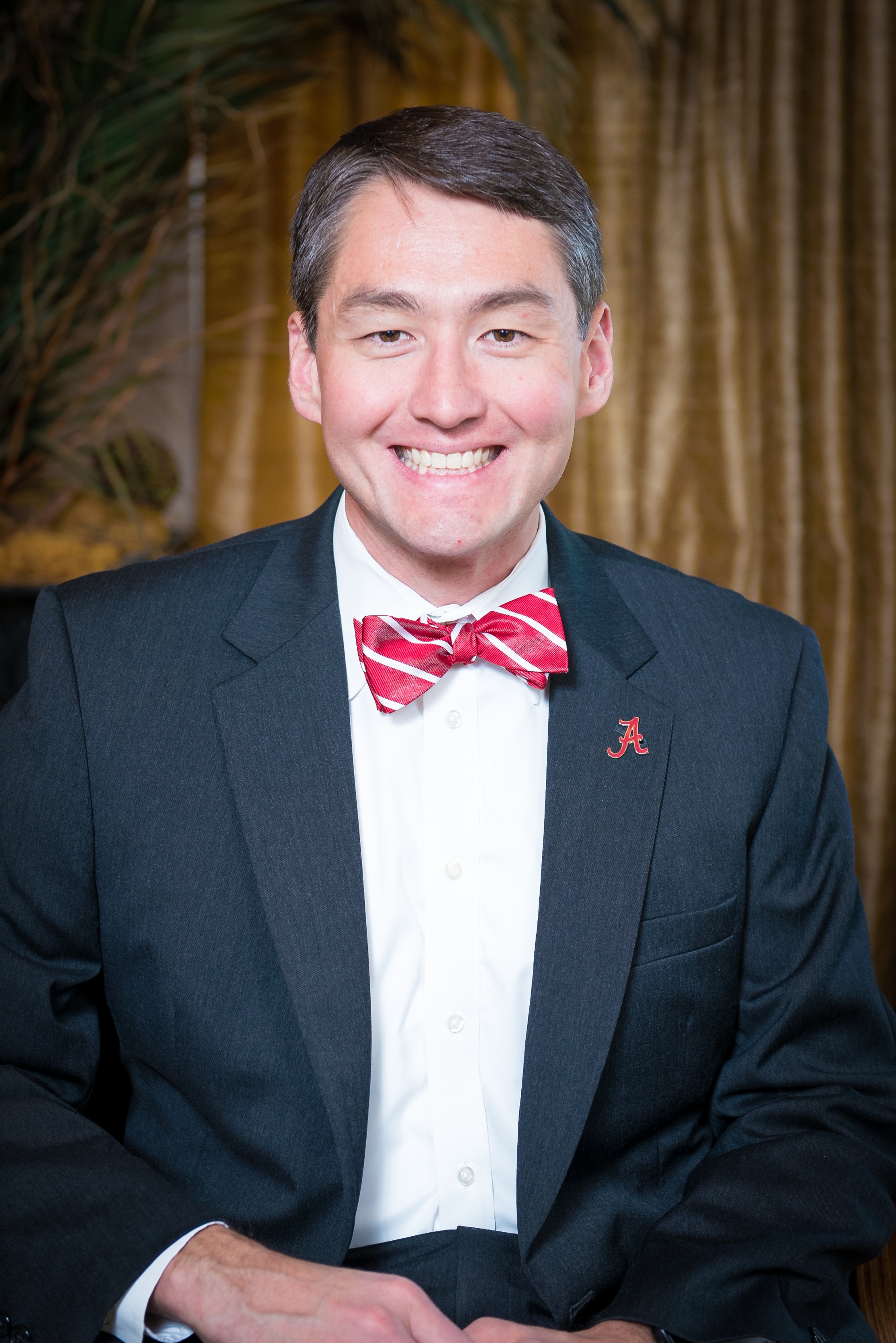 Benjamin Paulk (TEMBA 2012) received the first EMBA Alumnus of the Year award from The University of Alabama Executive MBA Alumni Network at the annual conference on October 5.  He is a Senior Product Manager at BBVA Compass Bank. He is responsible for supporting strategic direction and execution of business plans focused on the evolution and delivery of Commercial Card products.
Ben served in several positions on the EMBA Alumni Network Board from 2013-2016. During his tenure as President of the board (2015-2016), he championed the family day event at Regions Field in Birmingham, pushed for more alumni events, and promoted the EMBA Alumni on-line store, where alumni can purchase branded apparel while supporting the program.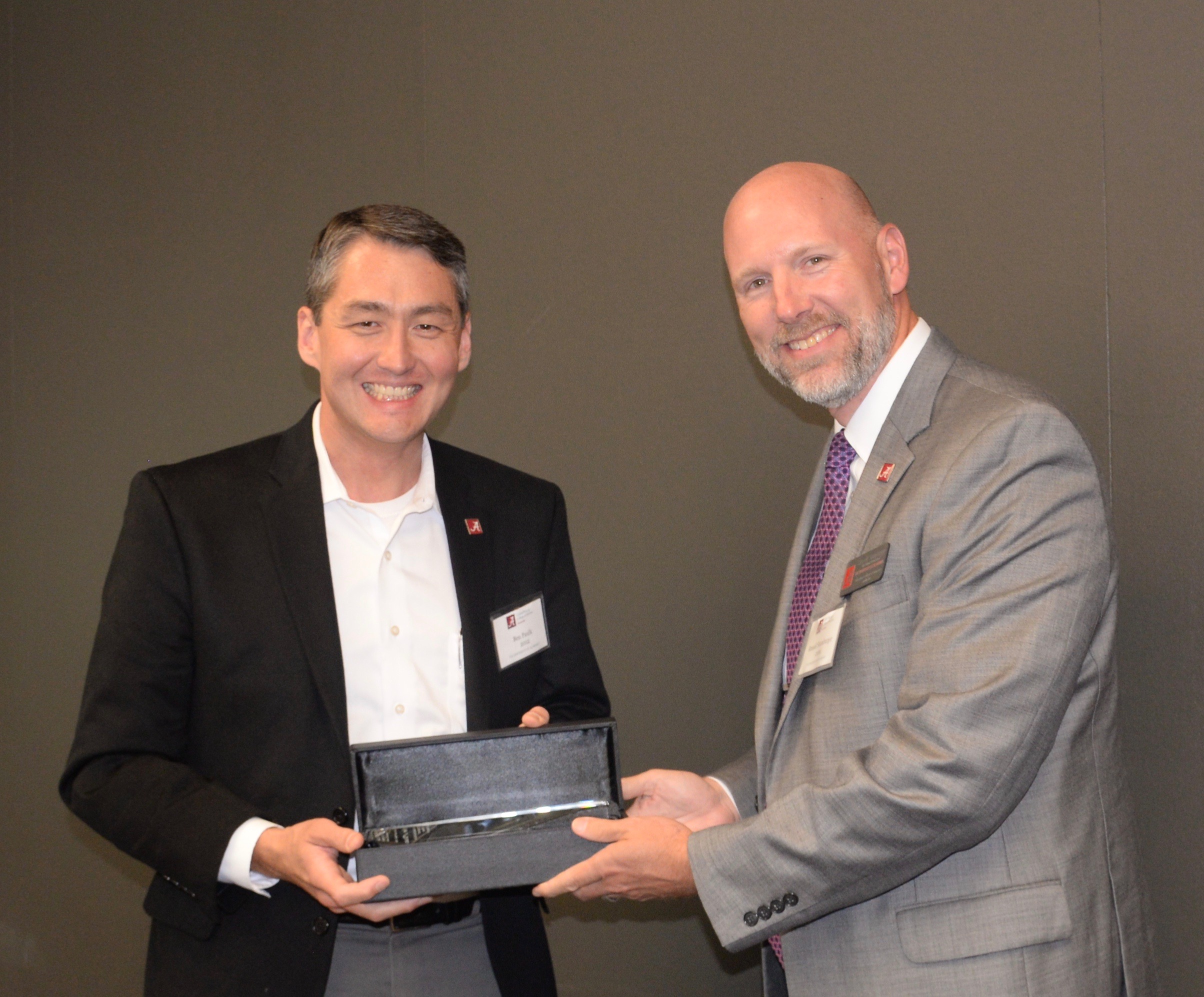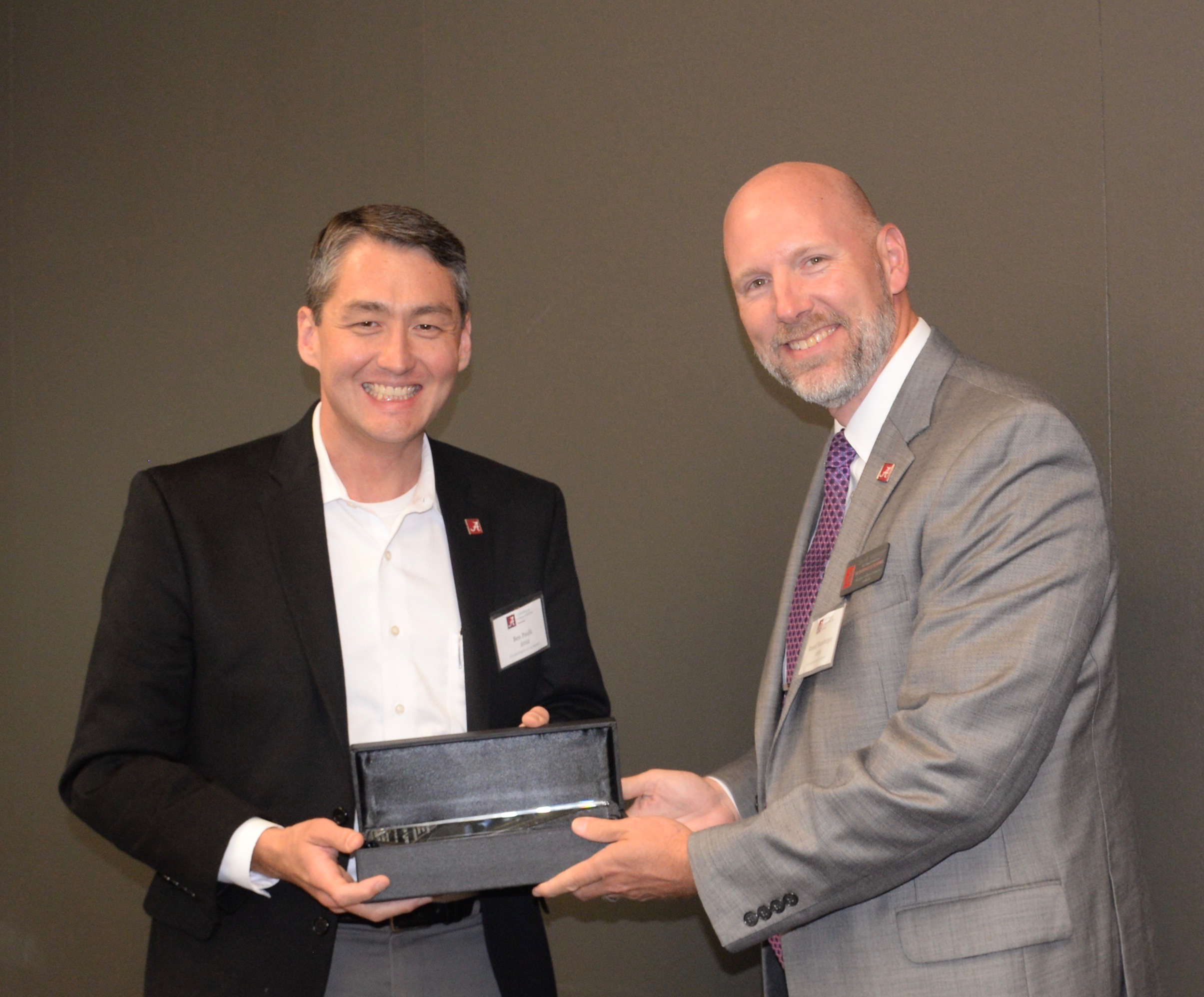 The award recognizes graduates of the UA EMBA Program who have had, or continue to have, a significant impact on the program. In selecting the recipient, the EMBA Alumni Network Board consider overall contribution and promotion of the EMBA Program, efforts to help other EMBA alumni, the longevity of engagement and involvement in enhancing the program experience for students and faculty.
We were fortunate to have an interview with Mr. Paulk and chat with him about his experiences in the EMBA Alumni Network and his new award.
Some people get overwhelmed with performing the duties of their jobs and having families. What piece of advice would you give someone who is wanting to get more involved with the EMBA Alumni Network but doesn't think they have the time?
I understand the constant demands that we all have on our time. And I know that everyone who has been through the program is capable of managing competing and worthwhile priorities. For me personally, I like to think of where I can have the most significant impact with my time, and I cannot think of a more worthwhile endeavor than promoting this program. The EMBA Program literally changes people's lives. It's not only transformative regarding people's careers, but I have talked to many alumni who share my sentiment, that it has changed the way they view the world.
Another thing to note is that there are multiple ways to be involved. If you cannot serve on the board, you can share ideas with the board. They are always looking for ways to strengthen the network. You could mentor a current student to help them through the transition process, helping them to remain in the program. You could also give to the Brian Rankin scholarship fund, which will help a student struggling with the financial decision to enroll. In place of those options, simply attending an event during the year helps us to generate excitement and promote the program, while networking with classmates and other alumni. If nothing else, place some promotional material on your desk. I have had countless conversations about the program because I keep a copy of the latest view book on my desk. 
What are some hopes that you have for the future of the EMBA program?
I envision the EMBA Program growing over the coming years with the highest caliber students. I believe the faculty and staff have created a world-class program that creates meaningful value for students. I think we also have a unique opportunity in the future to leverage the substantial growth of the University and the Culverhouse College of Business. All of this should create a robust and active alumni network, where we add value to the program by creating networking opportunities, recruiting the best students, and providing career enhancement opportunities. All of this generates a virtuous cycle where the alumni network enhances the program, and the program builds up the alumni network.     
Were you surprised about receiving the award?
This was a humbling experience. Beyond being the first recipient and not knowing about the award, when I think of all of the accomplished alumni that I have met and heard of, I count myself lucky just to have been part of the program and this group. It was a complete shock.
What motivates you to be so active in the program?
I believe in the power of education to change lives. When I think about the arc of my life, which really begins with my parents and now extends to my children, I clearly see the impact of education. This program has helped me in my career, and the effects on my livelihood cannot be overstated. However, it has helped me think about the way I see the world in a whole new light. I had experiences that changed me in a profound way. I have met so many wonderful people through the program that have helped me develop, professionally and personally. When you experience something like that, how could you not want to share it? What motivates me, is that I know other lives are waiting to be changed.  
What brought you to the program?
Initially, it was a degree that I felt I needed to advance in my career. As I looked at job postings, I saw MBA preferred listed on most of the positions I was interested in. I have talked to others who enter the program for the credential, while others really need to fill a gap in their formal education. When I began the program, I was surprised to see people with medical or law backgrounds, and entrepreneurs that need particular skill sets to run their business. But I have found that no matter why someone enters the program, invariable they feel it was worth it in the end. In fact, I have never met anyone who has completed the program that regrets it.  
What does this award mean to you?
When I received the award, I thought about all of the wonderful people I have met and worked with since graduating. I cannot say enough about all of the hard work that Dr. Gray, Donna, Cheryl, Hayley, and Linda have put into making this program what it is. I have also worked with great professionals on the Alumni Network Board who have created something meaningful out of ideas. I have also had the opportunity to see recruits enter the program, graduate, and become involved in the alumni network. I just feel grateful to be a small part in all of this.
What is one of your greatest highlights while in the program and participating in the Alumni Network?
While I had many great and unforgettable experiences in the classroom and on the international trip, the thing that sticks out most in my mind are the indelible relationships that I have formed. One of my classmates is a very close friend. I have gotten to know so many people, and we are watching each other's lives unfold, and children grow up. We see each other's careers advance and celebrate each other's successes. That's not something I had set out to do in the program but is a natural consequence of being involved.
Where do you see yourself in the future and how will you utilize your MBA to get there?
The MBA has helped me in my career in a myriad of ways, but the most visible are the advancements, promotions, and opportunities it has opened up for me. I don't know precisely what I will be doing  5-10 years from now. But I recall on the day of orientation, we were asked to write down professional and personal goals. I have achieved most of them, but I am not finished yet. This program has given me the tools and skills needed to attempt and pursue greater ones.
Article written by Laci Williams, Graduate Assistant in the Executive MBA Program.
For more information on the UA EMBA Program, contact Cheryl Altemara at caltemara@cba.ua.edu or call 205.348.4501. To request information now, click here.