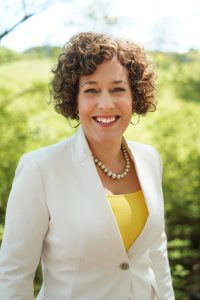 Are you looking to stay ahead of the curve? Look no further than a podcast started by EMBA alumna Mary Scott Hunter, a TEMBA 2017 graduate, and a lawyer working in house with Intuitive Research and Technology Corporation. With extensive experience in the legal world, serving ten years as an Air Force attorney, and a penchant for exploring contemporary issues in hopes of finding solutions, Hunter uses Belle Curve as a platform to spread her insights to others.
With her co-hosts Rachel Bryars and Liz BeShears, Hunter works to educate her audience. They use a variety of experts, sourced resources, and friendly banter on everything from the science behind football fandom to the #MeToo movement. For a behind the scenes look at Belle Curve, we asked Ms. Hunter about her experience with the podcast and in particular, how she leverages her M.B.A. to create an experience for her viewers.
How has the EMBA program had an impact on your work? Have you been able to incorporate what you learned in the program into creating the podcast?
The impact has been significant. It has given me the confidence to spread my wings as a lawyer at Intuitive and in my side hustles.  In addition to my podcast, I started a real estate investment company with Vickie Gesellschap (2010 HEMBA graduate).  We just closed on our first property. My husband is an entrepreneur and owns his own business, Resolution LLC.  I find that I put the knowledge I gained to work every single day for Intuitive and definitely in my side businesses. I had Dr. Mothersbaugh for marketing, and I pull my notes, and his lecture slides out all the time.  I did my SWOT before I started the podcast, so I knew what I was getting in to.

What is your most important takeaway from the podcast?
I went into the podcast, knowing it was both a passion project and a business. To that end, my partners and I went on a retreat and determined what were our mission statement and values. A decently produced podcast can make enough money to cover expenses but won't generally make enough to really profit. But, it can be a backdrop for other projects. Staying in a creative vein is important to me. As with any business, make sure to do your mission, purpose, vision, and values and approach podcasting with discipline. The most important part is knowing your audience, and their interest. Knowing where both your interests and your audience's interests synergize is where you create your best show.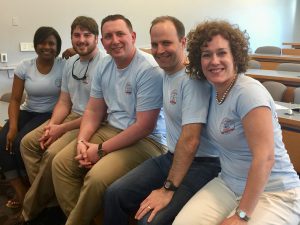 How do you balance your podcast and your current job?
The EMBA Program was really good for that because I was forced to work on a team! I've always disliked and even hated working in teams. I suppose I am a typical Gen Xer that way. However, I loved my team members.  We called ourselves Team Fidelity Five, and I am still in touch with all my teammates to this day.  I learned from that experience that you need partners to do big things. For my podcast, for instance, Rachel Bryars handles production, and Liz Beshears works on the social media aspects of the podcast. Everyone struggles with work-life balance, so you have to spread out responsibilities. 
What has been your most challenging moment producing the podcast so far?
High-quality production, email marketing, social media, and the general pressures of producing a show every week, are all challenging. The most challenging piece has been finding out who's doing what and showing grace when you realize everyone has other responsibilities. You can't get angry with each other because it shows on the podcast. You have to hold everyone to deadlines and be accountable while also being flexible. 
Additionally, I remember one tough podcast. In the EMBA Program, we did an activity called "eat the frog" or do the hardest thing first, so early on, we did a show tackling the #MeToo movement. There were no easy answers, and it was divisive enough to roll the second show back a week because the team felt unsteady about it.
On a side note, while interviewing Hunter, I was encouraged to look at one of her shows, which discusses the psychology behind why we enjoy football so much. Many in Alabama (excluding Auburn) would say it's because they know that whenever the Tide rolls, the scoreboard generally rolls with it. However, during the interview with Dr. Matthew Goldenberg, a picture quickly emerges that might startle most. Are human beings hard-wired to enjoy the sport of football? To hear more of the podcast along with other topics, check out Belle Curve!
For more information on The University of Alabama's Executive MBA Program, contact Cheryl Altemara, caltemara@cba.ua.edu, or call 205.348.4501.
Article written by Ben Tarkoff, Graduate Assistant in the Executive MBA Program.