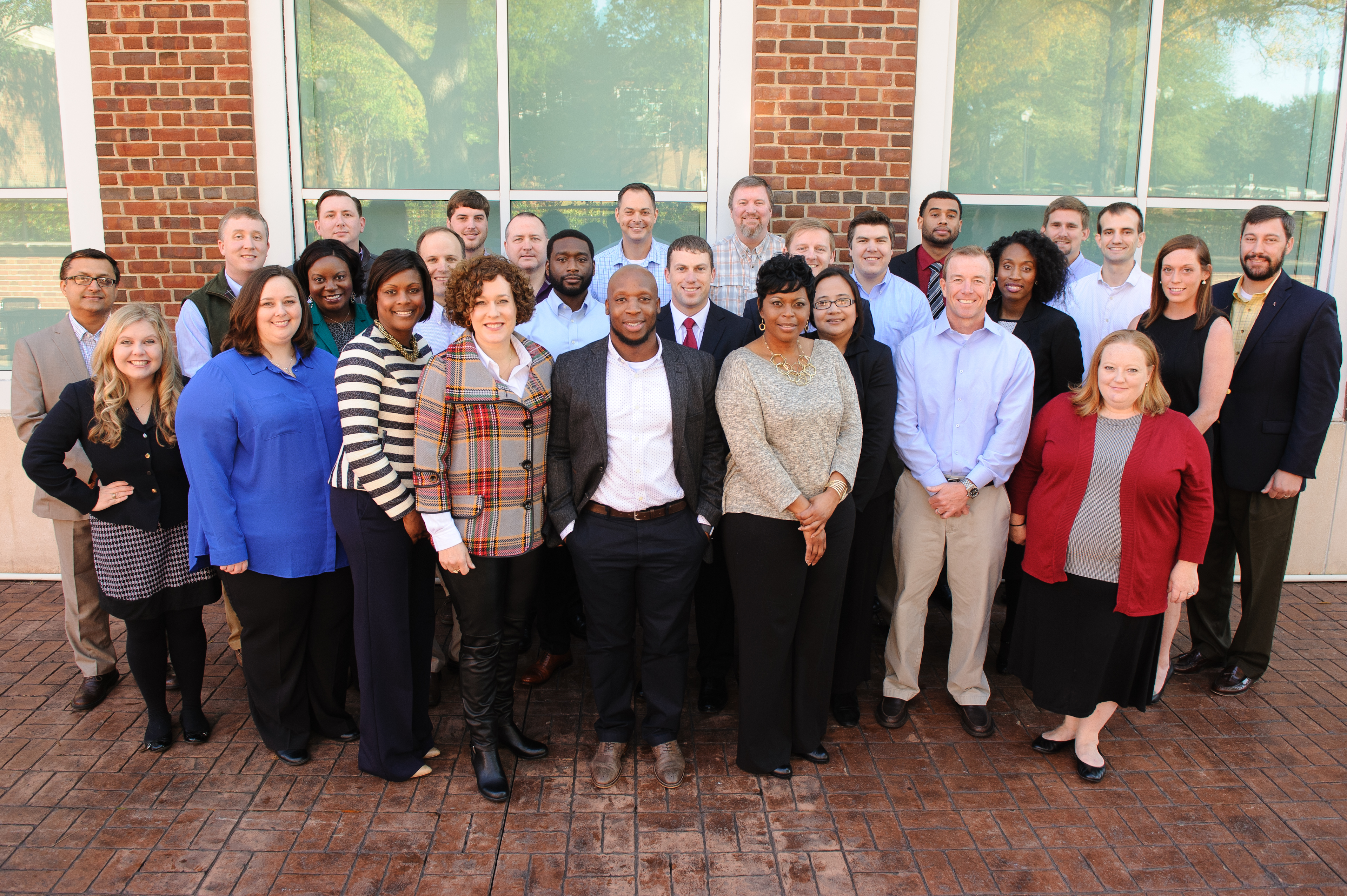 The Culverhouse College of Commerce welcomed the incoming Tuscaloosa Executive MBA Class of 2017 at orientation on The University of Alabama campus on November 19. The 30 students enjoyed a kickoff reception the night before at Hotel Capstone. Interim Dean Brian Gray welcomed them to campus where they will pursue an M.B.A. degree over the next 17 months.
The incoming TEMBA class has an average age of 35 and 13 years of work experience. Thirty-three percent of the class is female (the average for EMBA Programs worldwide is 27.6 percent, according to the EMBA Council). The class represents a diverse range of industries from finance, government and non-profit, healthcare, manufacturing, defense, consulting, energy, construction, media, services, engineering and technology. In addition, 20 percent are military, 73 percent managers, 10 percent professionals and 20 percent are vice president/c-level/owners.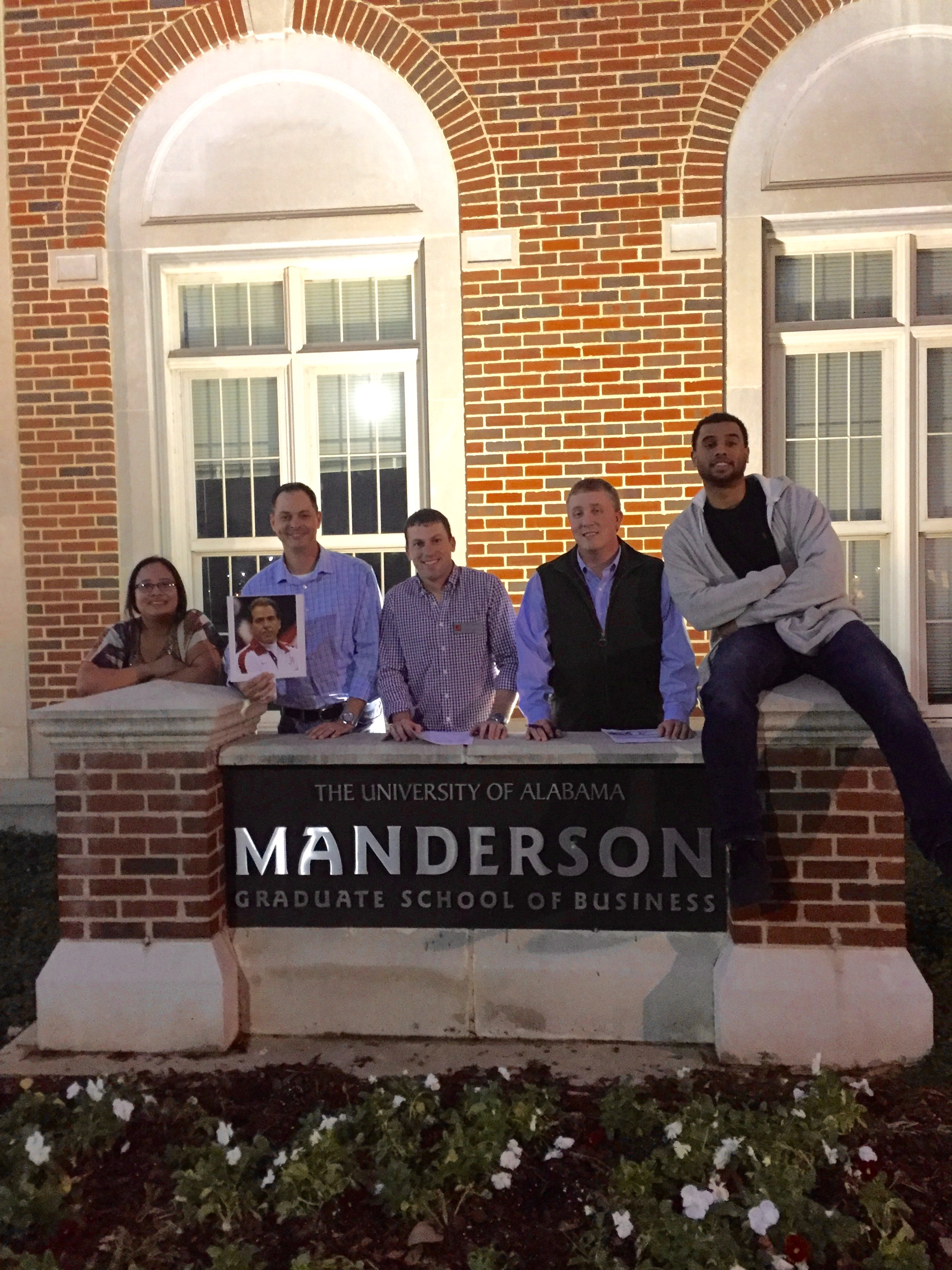 During orientation the students are divided into the teams they will work in during the program. The EMBA forms teams based on several parameters including professional and academic background, skill sets, goals and personality testing. Students had sessions on values, building their team charters, University processes, career development and an introduction to statistics.
Teams also competed in a scavenger hunt later in the day where they sought out campus landmarks for photo ops. "It's a fun way to get to know the campus and build relationships with their team and classmates," said Linda Cox, Program Assistant for EMBA.
The orientation concluded with a dinner hosted by the Executive MBA Alumni Network. Network President Ben Paulk greeted the incoming class and congratulated them on their journey. "The EMBA Program is a life changing experience and if you embrace it, the opportunity is there to build a great professional network and to make lasting friendships," said Paulk.
The students will return to campus December 1 for a week-long immersion to begin their first semester Statistics, Marketing, Accounting and Project Management courses.
Congratulations and Roll Tide TEMBA Class of 2017:
Ruqayyah Abdullah, BBVA Compass
Michael Adams, Randall-Reilly
Katie Askew, The University of Alabama
Brady Baird, Summerville United Methodist Church
Brett BiaLowas, PPG Industries
Jay Brooks II, Tag Grinding
Stephen Buzzell, Grammer, Inc.
Christie Davis, Northport Police Department
Sierra Earle, USAmeriBank
Monte Green, McLeod Software
Matt Hartley, Chemetall
Billy Helmandollar, DCH Health System
Mary Scott Hunter, Intuitive Research
Doug Lafont, TAMKO Building Products
Walt Long, US Air Force, MAFB
Anuraag Malaviya, Tata Consultancy Services
Frazer McCurdy, ServisFirst Bank
Hayley Ray McNeill, The University of Alabama
Bridgette Montgomery, VA Medical Center
Natasha Moore, Horne LLP
Sean O'Brien, UPS
Bryan Sanders, DaVita Kidney Care
Jason Sellars, The University of Alabama
Lilly Setiawan, The Dutch Group
Dane Shaw, Arsenal Place Accelerator
Ryan Stallings, First South Farm Credit
Will Stroup, The  Brogdon Group
Josh Vinson, Parallon Business Solutions
Beth Webster, Small Business Development Center
Rich Winstead, US Navy
For more information on the Executive MBA Program at The University of Alabama contact Cheryl Altemara at caltemara@cba.ua.edu or call 205-348-4501 or visit our website at www.emba.ua.edu.